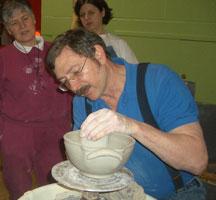 My career in pottery began over 40 years ago. I enrolled in the forestry program at the University of Vermont in 1968, and then took a class in ceramics in 1969.
In the 1970's and 1980's my work consisted of unusual objects in clay, and for 20 years produced Aquariums and Fountains. These water-sculptures were sold via hundreds of galleries, as far away as Tokyo.
In 1990 Christine, who is a textile weaver, and I opened a showroom at our studio. The web site and our showroom are the primary outlets for my pottery and Christine's weaving.
The focus of my work is inspired by ancient Jomon pottery. An important element is the quality of a pot's surface, which for me, is best achieved in the process of Wood Firing and Salt Glazing.
In the early 1990's I built a variety of kilns at the studio. This provided me with the opportunity to offer summer workshops at our pottery. From 1993 until 2006, potters from around the world came to share a common interest in clay.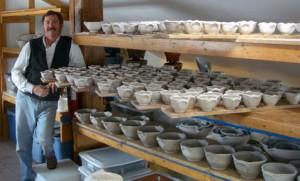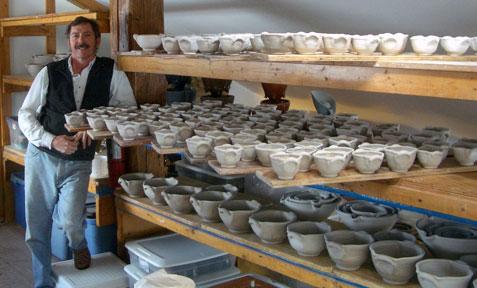 While we are not currently giving workshops at our Vermont Studio, invitations to give international workshops have given us a global awareness that has become an important aspect in our lives.
It has been our privilege to host potters, weavers and farmers from all over the world, reflecting our interests in pottery, textiles and agriculture. Over the years we have raised dairy goats, pigs, chickens, turkeys, horses, and most recently sheep.
Christine and I share a passion for travel and fly fishing. We have fished some of the most beautiful rivers on earth, from Alaska to New Zealand, as well as in the Rocky Mountains.
I have come to understand that life is a journey, not a destination, and I feel privileged to be making that journey as a potter.